Billing codes for RPM (Remote Patient Monitoring) were needed. This would help healthcare providers to use RPM. On January 1, 2019, the publication of a document titled "Chronic Care Remote Physiologic Monitoring" provided the codes. Since then, the CMS has made changes to some of the codes. These changes were based on feedback they received from the medical community.
After a medical practice sets up an RPM program, it can be confusing to understand the CPT® billing codes. Contact us for a guide to understanding the billing requirements for the most common codes.
In this post, we'll focus on the code CPT® 99457 — what it is all about and how doctors can bill for it using Remote Patient Monitoring.
What is CPT® code 99457?
Code 99457 can be used in many situations. You can avoid potential problems if you understand what it can and can not be used.
If you were to search CPT® Code 99457 in CMS Physician Fee Schedule, all you would come up to is "Rem physiol mntr 1st 20 min". For most people, this does not explain what the code is suitable for or the requirements that need to be set to bill for the code.
In simpler terms, CPT® Code 99457 is the monthly total of interactions that are at least 20 minutes long. These interactions include reviewing patient data. They may also include reviewing health goals set by a physician, clinical staff.
While this is a more accessible explanation than what CMS provides, there are some other uses for this code. A more in-depth discussion of this code may be needed.
Grab this handy resource
Download our CPT® Code Cheat Sheet and you can have the most important info you need one click away.
(No opt-in required)
Download Now!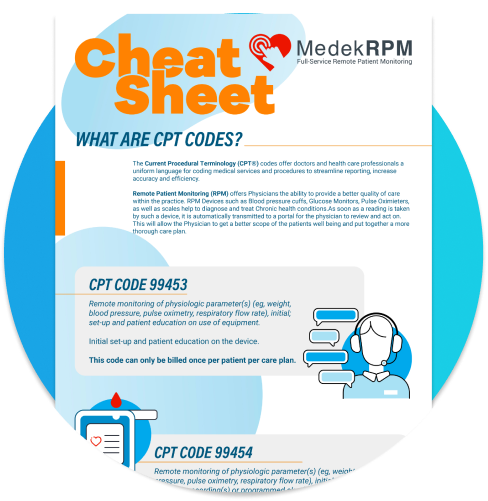 Who can accumulate 20 mins for CPT® Code 99457?
The biggest change in this code is the term "clinical staff". When compared to a similar code, like CPT® 99091 (which is limited to "physicians and qualified healthcare professionals").
The term "clinical staff" includes (but is not limited to) registered nurses and medical assistants. Your state laws and regulations may define "clinical staff" in different ways. It is not clear but CPT® code 99457 could be fulfilled by auxiliary personnel "incident to" the professional services of the billing practitioner. This means that under the direct supervision of a physician, the service could be done by another person. They billed it to Medicare in the physician's name, subject to specific requirements.
However, beginning January 1, 2020, Medicare modified "direct physician supervision" to "general supervision." This change meant the physician and the auxiliary personnel are no longer need to be physically present in the same building.
What are the fulfillment requirements needed?
With CPT® 99457, physicians can bill at least 20 minutes of RPM treatment management services per calendar month. The physician will be reimbursed by CMS monthly.
The reimbursement covers clinical staff time used for monitoring. It can also include direct interactive communication with patients. This communication may by phone call, video call, or in-person meeting. But, it does not cover preparation time before or after the monitoring and/or interaction. The advantage is monthly billing instead of 30 day billing. For most billing departments, it is easier to track calendar months rather than 30 day periods. For clinicians, it is easier to know what occurred in a calendar month, rather than a 30 day period.
Once the qualifications have been met, the patient's insurance health care provider can be billed by this code for the services provided. The amount of reimbursement income can vary based on the patient's zip code.
With Medek RPM Full-Service Solution, all your billing needs are taken care of by our team of specialists so you can focus on your patients.
Schedule a time to speak with an RPM Consultant today!
Request Demo
What is the takeaway?
First there is the ease and straightforward manner of CPT® Code 99457 for patients and healthcare providers. Second, a Provider may bill after only a 20 minutes of direct contact with a patient and a review of their vitals. This provides a monthly revenue stream and an increase in patients' healthcare.
Despite its simplicity, the CPT® Code 99457 can be used to diagnose and address several medical and psychiatric conditions, including COPD, Diabetes, Obesity, and more. This code also opens up the opportunity to bill for CPT® Code 99458, a 2-block repetition of the exact parameters of CPT® code 99457.
Ideally, train your billing staff and your reviewing team on the various codes used on invoices. The correct code will make getting reimbursement from insurance companies and other third-party payors easier.